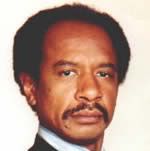 What do this man and
Henry T. Sampson
have in common?
Neither invented the cellular phone; both have an interest in blacks' roles in film.
My fifth-grader was assigned to do a report on Henry T. Sampson for Black History Month. The teacher's list declares Dr. Sampson invented the cellular phone. Um, nope.
According to Dr. Sampson, his invention -- the Gamma Electric Cell, patented July 6, 1971, Patent No. 3,591,860 -- produces stable high-voltage output and current to detect radiation in the ground. He also holds three patents concerning solid rocket motors and one on the direct conversion of nuclear energy into electricity. Dr. Sampson has written more than ten technical papers in rocket propulsion, direct conversion of nuclear energy to electricity and computer simulation of electrical systems. He also pioneered a study of internal ballistics of solid rocket motors using high-speed photography -- not to mention several books on the history of blacks in film (hence my contrived connection to Sherman Hemsley).
Dr. Sampson was born in 1934 in Jackson, Mississippi. Jackson State University is the home of the Henry J. Sampson Library. Over 150,000 square feet, The Henry T. Sampson Library houses in excess of one million resource items including several specialized collections.
This amazing gentleman earned a B.S. in Chemical Engineering, two master's degrees (engineering and nuclear engineering), and a doctorate degree in Nuclear Engineering from UCLA. He is also a producer of documentary films on early black filmmakers and films, a member of the board of directors of Los Angeles Southwest College Foundation, and a technical consultant to Historical Black Colleges and Universities Program.
Books written by Dr. Sampson include:


Blacks in Blackface: A Source Book on Early Black Musical Shows


Ghost Walks: A Chronological History of Blacks in Show Business, 1865-1910 - An impressive assortment of theatrical reviews and articles culled from the African-American press of the nineteenth and early twentieth centuries, carefully arranged and thoroughly indexed, with countless photographs and reproductions.


Blacks in Black and White Traces the history of the black film industry from its beginnings around 1910 to its demise in 1950.


That's Enough Folks (Hardcover - June 25, 1998) The first and only book to detail the history of Black images in animated cartoons.


Swingin on the Ether Waves (Hardcover - July 2005) - Documents the historical contributions of African American to broadcasting in The United States over a period beginning with the birth of commercial radio in the 1920s and ending in 1955. (2528 pages) (list price $395.00)


Henry T. Sampson's name belongs on every list of black accomplishments. He's a brilliant scientist, engineer, and much more. What a shame that American children are erroneously taught that Dr. Sampson invented the cellular phone when his real contributions are so much more noteworthy.